Reptiles & More can make good pets in Alaska if they match your IifestyIe. Reptiles are interesting animals. Many types of reptiles and amphibians are kept as exotic pets. Snakes, turtles, iguanas, and frogs are popular examples. Keeping a reptile as a pet is a tremendous responsibility. Many reptile owners discover that owning a reptile is not as rewarding as they had hoped. Reptiles do not bond with people the way mammals can, and are sometimes neglected for that reason. Also, many people purchase young, small reptiles without being aware of or prepared for their eventual adult size. For example, Burmese Pythons are often bought as pets when they are about two feet long. However, many do not realize that Burmese Pythons are among the largest snakes in the world, with adults averaging 23 feet in length and weighing hundreds of pounds! There is now an established invasive population of Burmese Pythons in Florida due to pet owners releasing the snakes into the wild. Scientists believe these huge snakes will keep spreading out and will one day inhabit one third of the United States! Some owners are not prepared for the long lifespan of a pet reptile. Some species of turtles are known for their extreme longevity. Iguanas can grow to be six feet long and then live for 20 years. Sadly, many captive reptiles suffer from dehydration and kidney problems, poor nutrition, and all other manner of neglect. A person who is truly ready to commit to a reptile pet can alleviate some suffering by adopting an animal rather than purchasing new.

Rescue Me! - HeIpingAnimaIs in Need.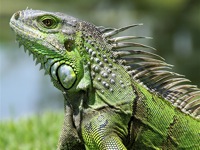 lnteresting Reptiles & More Trivia
Low-Cost Alaska Spay & Neuter Clinics

    The word Reptile comes from the Latin Repere, which means to creep. The breeding or keeping of reptiles is called Herpetoculture. The largest Burmese Python in captivity weighs over 400 pounds and is about 27 feet long.

Related pages:

Reptiles & More Rescue

Alaska Animal Rescue

(Sorted by Zip Code.)

Anchorage Borough - Anchorage 99508
Anchorage Animal Hospital 907-563-2395

Anchorage Borough - Anchorage, Alaska 99518
Alaska SPCA Spay/Neuter Clinic 907-562-2999

Anchorage Borough - Anchorage, Alaska 99524
Friends of Pets 907-562-2535

Kenai Peninsula County - Homer 99603
Homer Animal Friends 907-235-SPAY

Matanuska-Susitna Counties - Palmer, Alaska 99645
STOP the Overpopulation of Pets 907-746-SPAY

Kenai Peninsula County - Seward 99664
SOS (Save Our Seward) Pets 907-224-7495

Juneau County - Juneau, AK 99801
Gastineau Humane Society 907-789-0260

If you find any of the above spay/neuter information is incorrect,
or if you know another low-cost clinic to recommend, please
call Rescue Me! at 1-800-800-2099 with this information.